NEW: Online Spanish classes
What's that?
The online lessons are designed for everybody who travels frequently or who lives further away from the school. Online lessons are personal, flexible and tailored to your particular needs:
We are no anonymous platform that sells a pre-assembled set of teaching material; instead, we offer professional face-to-face videochat classes with real teachers. We provide real time communication and interaction with your teacher, whilst you chose they place from where you want to take classes.
We offer two different forms of online Spanisch classes:
Online group courses (Find current course dates and further explications further below)
Online individual lessons
Requirements & Recommendations
Some tips and requirements for your online lessons to work well:
Choose a silent spot where you can concentrate well.
You need a computer or a tablet with a stable internet connection.
We use  Skype for our lessons. You need an user account (which you can open for free).
In addition, we recommend a microphone and a speaker or headphones.
We provide you with the teaching material. You can print it at home if you prefer working with real paper to working on screen.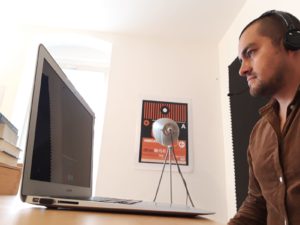 Who are the teachers?
Our longtime experienced teachers who also work on-site at our school teach the online classes and adapt them individually to the interests and needs of every single student. Online as offline we convey our proven method of learning Spanish in a fun way.
Online individual classes at one glance:
You decide when how often, how long and where from you want to take your lessons.
Our online lessons take 6

0 Minutes 

per class

You can chose time and frequence of your lessons per week
Minimum booking is a package of 4 lessons of 60 Minutes – you can take one individual trial lesson before booking a package to find out whether you like our classes.
Per Session
(60 minutes)
as a trial lesson
4-session-package
(4 sessions of 60 minutes)
8-session-package
(8 sessions of 60 minutes)
12-session-package
(12 sessions of 60 minutes)
20-session-package
(20 sessions of 60 minutes)
Online-Individual Lessons
for one person
45 Euro
180 Euro
360 Euro
540 Euro
900 Euro
Online-Individual Lessons
for 2 persons
65 Euro

260 Euro

520 Euro

780 Euro

1300 Euro

* 10% discount when booking a package of 12x 60 minutes. 12% discount when booking a package of 20x 60 minutes.
Spanish Online group courses:
Oun Spanish group courses online take 90 Minutes per class.
You can find times and dates are in the table below.
The course term is six lessons of 60 minutes.
Niveau
Kursart
Format
Uhrzeit
Beginn
Dauer
Umfang
Preis

A1.1

(Komplette Neuanfänger)
regulär online
(1x 90 Minuten pro Woche)
Online

4-10 Schüler
Dienstag
19.45-21.15 Uhr
16. Mai 2023
12 Wochen
+ 1x60 min. Konversationskurs
12x 90 Minuten
+ 60 Min Konversation
174 Euro


A1.1

(Komplette Neuanfänger)
semi-intensiv online
(1x 180 Minuten pro Woche)
Online

4-10 Schüler
Mittwoch
18.00-21.00 Uhr
24. Mai 2023
6 Wochen
+ 1x60 min. Konversationskurs
6x 180 Minuten
+ 60 Min Konversation
174 Euro


A1.2
(Neuanfänger
mit
wenig Vorkenntnissen)
regulär online
(1x 90 Minuten pro Woche)
Online

4-10 Schüler
Dienstag
18.00-19.30 Uhr
13. Juni 2022
12 Wochen
+ 1x60 min. Konversationskurs
12x 90 Minuten
+ 60 Min Konversation
174 Euro


A1.2
(Neuanfänger
mit
wenig Vorkenntnissen)
regulär online
(1x 90 Minuten pro Woche)
Online

4-10 Schüler
Mittwoch
19.45-21.15 Uhr
12. Juli 2022
12 Wochen
+ 1x60 min. Konversationskurs
12x 90 Minuten
+ 60 Min Konversation
174 Euro


A1.2
(Neuanfänger
mit
wenig Vorkenntnissen)
regulär online
(1x 90 Minuten pro Woche)
Online

4-10 Schüler
Dienstag
19.45-21.15 Uhr
8. August 2022
12 Wochen
+ 1x60 min. Konversationskurs
12x 90 Minuten
+ 60 Min Konversation
174 Euro

A1.3
(Neuanfänger mit Vorkenntnissen)
regulär online
(1x 90 Minuten pro Woche)
Online

4-10 Schüler
Mittwoch
18.00-19.30 Uhr
19. Juli 2023
12 Wochen
+ 1x60 min. Konversationskurs
12x 90 Minuten
+ 60 Min Konversation
174 Euro

A2.1
(Anfänger mit Vorkenntnissen)
regulär online
(1x 90 Minuten pro Woche)
Online

4-10 Schüler
Mittwoch
19.45-21.15 Uhr
17. Mai 2023
12 Wochen
+ 1x60 min. Konversationskurs
12x 90 Minuten
+ 60 Min Konversation
174 Euro

A2.1
(Anfänger mit Vorkenntnissen)
regulär online
(1x 90 Minuten pro Woche)
Online

4-10 Schüler
Donnerstag
18.00-19.30 Uhr
20. Juli 2023
12 Wochen
+ 1x60 min. Konversationskurs
12x 90 Minuten
+ 60 Min Konversation
174 Euro

A2.2
(Anfänger mit guten Vorkenntnissen)
semi-intensiv online
(1x 180 Minuten pro Woche)
Online

4-10 Schüler
Mittwoch
18.00-21.00 Uhr
14. Juni 2023
6 Wochen

+ 2x Coupon Konversationskurs à 90 Min.
6x 180 Minuten
+ 60 Min Konversation
174 Euro

A2.3
(Anfänger mit guten Vorkenntnissen)
regulär online
(1x 90 Minuten pro Woche)
Online

4-10 Schüler
Donnerstag
19.45-21.15 Uhr
27. Juli 2023
12 Wochen
+ 1x60 min. Konversationskurs
12x 90 Minuten
+ 60 Min Konversation
174 Euro

B1.1
(fortgeschrittenes Niveau)
regulär online
(1x 90 Minuten pro Woche)
Online

4-10 Schüler
Montag
19.45-21.15 Uhr
22. Mai 2023
12 Wochen
+ 1x60 min. Konversationskurs
12x 90 Minuten
+ 60 Min Konversation
174 Euro

B1.2
(fortgeschrittenes Niveau)
regulär online
(1x 90 Minuten pro Woche)
Online

4-10 Schüler
Dienstag
18.00-19.30 Uhr
23. Mai 2023
12 Wochen
+ 1x60 min. Konversationskurs
12x 90 Minuten
+ 60 Min Konversation
174 Euro

B1.3
(fortgeschrittenes Niveau)
regulär online
(1x 90 Minuten pro Woche)
Online

4-10 Schüler
Dienstag
18.00-19.30 Uhr
15. August 2023
12 Wochen
+ 1x60 min. Konversationskurs
12x 90 Minuten
+ 60 Min Konversation
174 Euro

B2.1
(gutes fortgeschrittenes Niveau)
regulär online
(1x 90 Minuten pro Woche)
Online

4-10 Schüler
Donnerstag
18.00-19.30 Uhr
3. August 2023
12 Wochen
+ 1x60 min. Konversationskurs
12x 90 Minuten
+ 60 Min Konversation
174 Euro