Course Books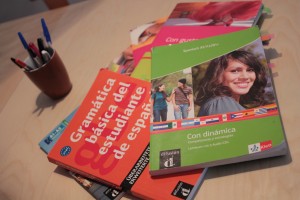 In our German and Spanish courses we use a broad variety of different materials which we have created and developed ourselves. In addition we are using course books in class. The reason for this is that we found the learning experience to be more enjoyable for our students, if they have a clear and well-structured book with which they can study independently or look something up at home.
We have tried many books and finally chose the ones that we and our students loked the most.
While picking the right course books these three aspects were particularly important to us:
A diversity of dialects and cultures:
especially for our Spanish lessons it is very important to us that the Latin-American varieties of the language are well represented in the books we use and are not merely side-notes. Besides our books  contain a colorful mixture of information about culture and life of the Spanish-speaking world.
Different types of learners:
Every student has his or her own way of learning – one of them needs to picture something figuratively, the other one likes to learn new words by hearing and yet another one needs logical structures. Because of this we picked books that don't just support one way of learning but take many different types of learners into consideration.
Conversation, conversation, conversation:
In our classes we want our students to speak – not the teachers. Therefore we picked books that support the conversation between our students. With this methodology our teachers don't hold long monologues but moderate the conversation.
Level
Title
Publishing house
ISBN
A1.1

Con gusto nuevo A1
Kurs- und Übungsbuch mit MP3-CD und DVD
Klett
978-3-12-514671-6
A1.2

Con gusto nuevo A1
Kurs- und Übungsbuch mit MP3-CD und DVD
Klett
978-3-12-514671-6
A1.3

Con gusto nuevo A1
Kurs- und Übungsbuch mit MP3-CD und DVD
Klett
978-3-12-514671-6
A2.1

Con gusto nuevo A2
Kurs- und Übungsbuch mit MP3-CD und DVD
Klett
978-3-12-514677-8
A2.2

Con gusto nuevo A2
Kurs- und Übungsbuch mit MP3-CD und DVD
Klett
978-3-12-514677-8
A2.3

Con gusto nuevo A2
Kurs- und Übungsbuch mit MP3-CD und DVD
Klett
978-3-12-514677-8
B1.1

Con gusto nuevo B1
Kurs- und Übungsbuch mit Audios und Videos
Klett
978-3-12-514684-6
B1.2

Con gusto nuevo B1
Kurs- und Übungsbuch mit Audios und Videos

Klett
978-3-12-514684-6
B1.3

Con gusto nuevo B1
Kurs- und Übungsbuch mit Audios und Videos
Klett
978-3-12-514684-6
B2.1

Con gusto nuevo B2
Libro del alumno y de ejercicios
Spanisch für Fortgeschrittene
Klett
978-3-12-514688-4
B2.2

Con gusto nuevo B2
Libro del alumno y de ejercicios
Spanisch für Fortgeschrittene
Klett
978-3-12-514688-4
B2.3

Con gusto nuevo B2
Libro del alumno y de ejercicios
Spanisch für Fortgeschrittene
Klett
978-3-12-514688-4
C1.1

C de C1
Libro del alumno

difusión
978-3-12-515024-9
C1.2

C de C1
Libro del alumno

difusión
978-3-12-515024-9
C1.3

C de C1
Libro del alumno

difusión
978-3-12-515024-9
[table "43" not found /]